We Love Flamenco 2020. Parades and Gateway Program flamenco fashion.
The 14 to the 19 of January of 2020
Hotel Alfonso XIII – SEVILLA –
Entrance to each parade: 12€
We Love Flamenco VIII Edition. Flamenco fashion show. Parades and Program 2020.
We Love Flamenco is the fashion show with the widest Flemish inspiration and most internationally, consecrated as the first to introduce trends of the season, against other local gateways are settled down in southern Spain. A) Yes, our platform gives the most exquisite southern appointment with fashion, where designers and lovers of flamenco fashion meet and share the most important developments in the regional costume the world.
The eighth edition of the WLF be held 14 to the 19 of January of 2020 at the Royal Hall of the Hotel Alfonso XIII in Seville, extending another day parade. as a novelty, the official timing of WLF20 encompass the fourth edition Viva by WLF (platform for the most emerging firms), which will take place on 15 of January of 2020, returning to the place where she was born in 2017.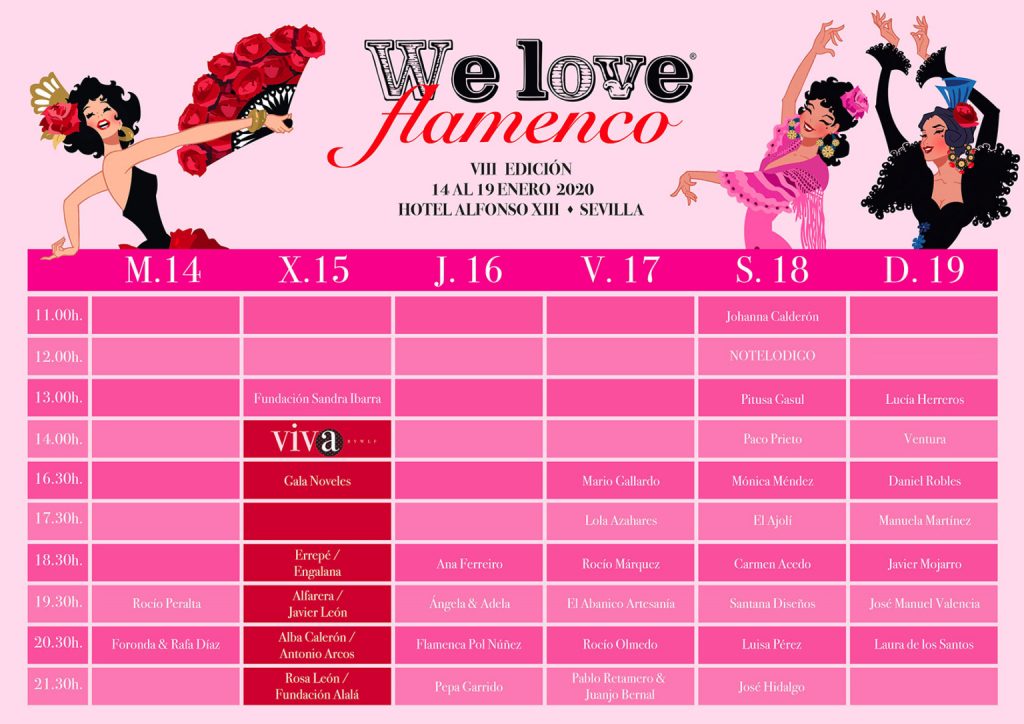 CALENDAR OF SCROLLS WELOVEFLAMENCO 2020 And VIVABYWLF
– Tuesday 14: Rocio Peralta, celebrating their 10 years of experience (19:30h), Foronda (20:30h).
– Wednesday 13, Vivabywlf day: Sandra Association parade Ybarra (13:00h), Gala Noveles (16:30h), Errepé / Adorn (18:30h), alfarera / Javier León (19:30h), Alba Calerón / Antonio Arcos (20:30h) , and Rosa León / Foundation Alalá (21:30h).
– Thursday 16: Ana Ferreiro (18:30h), Angela and Adela (19: 30h), Pol Núñez Flamenca, celebrating their 25 years of experience (20:30h), Pepa Garrido (21:30h).
– Friday 17: Mario Gallardo (16:30h), Lola Azahares, celebrating their 45 years of experience (17:30h), Rocío Márquez (18:30h), The Abanico Crafts (19:30h), Rocío Olmedo (20:30h) , Retamero and Juanjo Pablo Bernal (21:30h).
– Saturday 18: Johanna Calderon (11h), NOTELODIGO (12h), Pitusa Gasul (13h), Paco Prieto (14h), Monica Mendez (16:30h), the Ajolí (17:30h), Carmen Acedo (18:30h), Santana Designs (19:30h), Luisa Pérez (20:30h), José Hidalgo (21:30h).
– Sunday 19: Mercedes Dobenal (12h), Lucia Herreros (13h), Ventura (14h), Daniel Robles (16:30h), Manuela Martinez (17:30h), Javier Mojarro (18:30h), José Manuel Valencia (19:30h), and Laura de los Santos (20:30h).