Cover of the April Fair in Seville 2019
The Delegation of major festivals presented the 25 October 2018 ± or the design that will draw the cover of the April Fair 2019. The chosen design was the one presented by Angelo Gonzalez Carvalho called Seville, Stage Art, Culture and History
The design of the cover of the April Fair in Seville 2019 It is inspired by the Seville Pavilion of the Exhibition 1929, formed by the Casino of the Exhibition and the Teatro Lope de Vega all with a strong tribute to Anibal González
The structure will have a dimension 50 meters wide 39,15 meters high.
Reference Data Fair cover 2019:
The central part represents a circular lounge and its dome is crowned by the headframe.

The colors are similar to those in the building but emphasizing color Albero

.

The two towers and five arches are topped by a railing with his perfectly willing ornamental posts

.

The cover pays homage to the figure of Aníbal González, the V Centenary of the first round the world and also includes an allusion to the commemoration of 175 anniversary of the founding of the Civil Guard and the poster exhibition Iberoamericana 1929 Santiago Martinez

.
Further details on the cover of the April Fair in Seville to be held of 4 to the 11 May 2019:
side height towers: 17,70 m
center height: 39,15 m
Front occupying: 50 m
tube structure 42-48 mm: 32.531 m
Number of bulbs: 24.000
Mounting hours: 16.500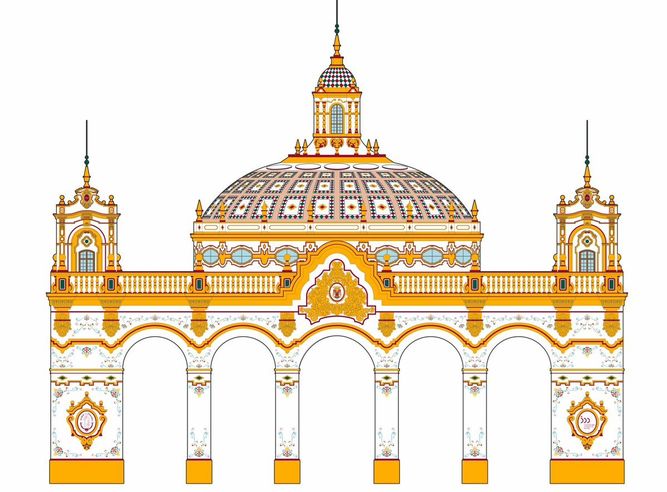 EL "ALUMBRAO"
Surely you've been surprised to read this little word, that belongs to you-no doubt quepis- the particular dictionary Seville, but comes from "The Lighting", light verb.
It really is something like "Chupinazo" in the San Fermin, represents beginning of the April Fair Seville and is the highest authority of the city, our mayor, press a little button and little by little they are lighting the 24.000 Home Light Bulbs. Gradually be completely illuminating the Real, lighting all the bulbs that are in the Real de la Feria. The Fair is completely shines… and hence what the "alumbrao".