Free entry public booths at the April Fair in Seville 2023
To the vast majority of booths of the April Fair in Seville you can only enter by invitation or if you know a member of the same. But at the Seville Fair there are several free access booths at all hours. They are the City districts, trade unions and political parties.
Although these booths do not have the same atmosphere as a family booth, in them you can also enjoy typical food from the Seville Fair and sevillanas.
The free access booths for the April fair in Seville 2023 son:
PUBLIC BOOTHS OF FREE ENTRY OF DISTRICTS AND CITY COUNCIL
– C/ Costillares , 22 – Nervión-San Pablo-Santa Justa District
- C / Antonio Bienvenida, 97 – Old Town District
- C / Pascual Márquez, 153 – Triana-Los Remedios district
- C / Pascual Márquez, 215 – This district
– C/ Juan Belmonte, 196 – District Cerro-Amate
- C / Pascual Márquez, 85 – Macarena-Norte district
- C / Ignacio Sanchez Mejias, 61 – South District-Bellavista-La Palmera
– C/ Costillares, 13 – Major Festivals Area of ​​the Seville City Council
- C / Pascual Márquez, 225 – Tourist house
PUBLIC BOOTHS OF FREE ENTRY OF POLITICAL PARTIES, UNIONS AND ASSOCIATIONS
– C/ Juan Belmonte , 196 – Andalusian Party
- C / Pascual Márquez, 66 – PP of Seville
- C / Antonio Bienvenida, 79 – PSOE Andalusia
- C / Pascual Márquez, 9 – Fishbowl
- C / Pascual Márquez, 81 – CC.OO. Seville
- C / Antonio Bienvenida, 13 – UGT
- C / Curro Romero, 25 – USE
– C/ Manolo Vazquez, 31- La Marimorena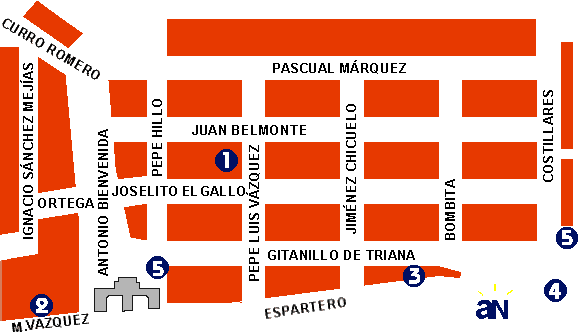 1.- Municipal Hut
2.- Local Police
3.- Lost Children
4.- WC
5.- Information
Click to view the Official Plan of the April Fair 2022 (pdf file)