Bullfighting Seville April Fair and Fertilizer 2017
APRIL FAIR 2017. They ARE ALL THAT ARE AND ARE THOSE WHO ARE ALL.
by José Antonio Esquinas, the Andalunet.com
Already in the streets of Seville bullfighting posters fertilizer, as usual the highlight "the April Fair"; this year the company has made twenty Pagés celebrations in fifteen bullfights, a run of seven chopped shanks novilladas.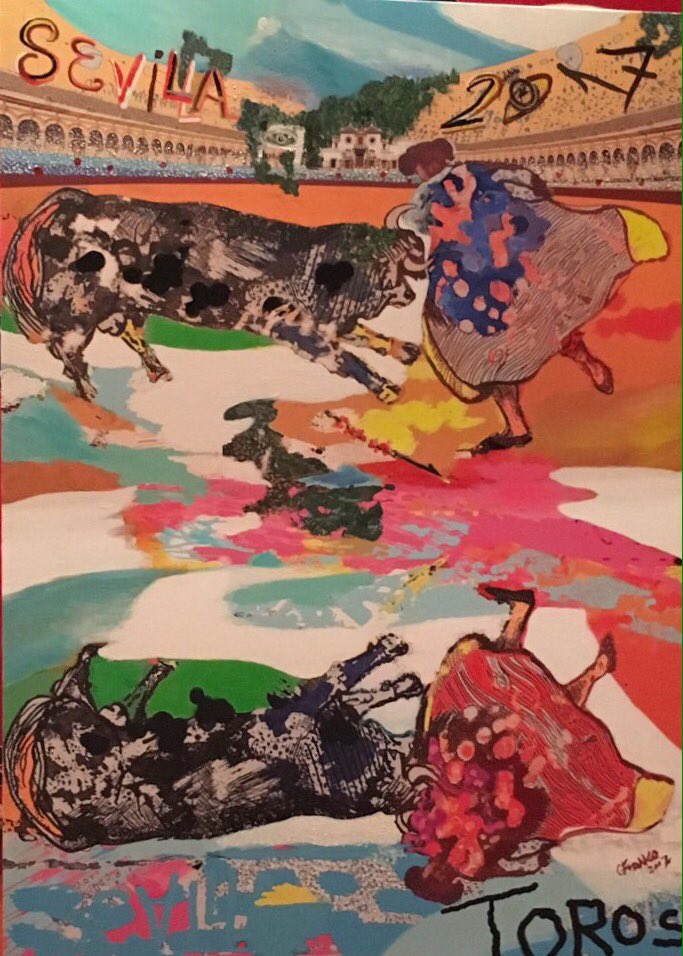 Note that this year the Seville fertilizer consists of a celebration less than last year, as there is a bullfight less like another shank which also disappears, but increases novillada.
Speakers bullfighters twenty occupying forty-five positions, of which thirteen are sevillanos coletudos, equivalent to a mathematical 29%.
Bullfights are divided among the following Matadors: Morante de la Puebla and Manzanares, will make four times the paseíllo; three are Roca Rey and Talavante; two come, El Juli, Ponce, Simon Lopez, Antonio Ferrera, Manuel Escribano and Padilla. Gines Lorenzo and Alvaro Martin will paseíllo discovered.
With regard to novilleros, According to the company, Dossiers have received seventy novilleros willing to do the little walk in Seville of only nineteen trample the maestrante albero, twenty occupy positions, and in the Corpus there a dogfight (Pablo Aguado and Rafael Serna).
Regarding the breedings, Nunez noted that Cuvillo, Garcigrande and Brothers Garcia Jimenez will struggle two bullfights in the fertilizer. Do not miss the usual appointment, Torrestrella, Victorino, Victoriano del Río, Jandilla, Juan Pedro, The pillar (Moses Fraile), Source Ymbro, Daniel Ruiz , los Miuras ...
And are the goal posts to the basket this year, to see how we get! Ramón Valencia, maximum architect of the posters: "The company is pleased with posters, I think we were right because all are interesting and many of them very topped ". He stressed how difficult manufacture them, Thursday's mentioned he preferred to Morante, El Juli and Talavante, and complicated to convince the swords (several weeks commented) to be phonecalls.
Regarding the economic issue Valencia made it clear that if Last year was "the most expensive show in history", of this year exceeds, the budget is higher ", something that we do not question but from the business point of view seems risky given the drop in subscribers to the Plaza de Sevilla, and a discount policy 10% off of fertilizers regarding entries, climbing down a ... and other, Tamayo was Pedro Rodriguez who explained in detail the new distribution and cumbersome Square and prices according to the five areas in which it has been divided, We recommend that you consult localities calmly and ask if they have questions.
At the end questions that are not some (Curro Diaz, Away eternal Joseph Thomas), the expected answers "who takes off", "There are fewer celebrations this year" ... The curious note (by putting a qualifier), It was when from the chairs of the press rose Seville matador Salvador Cortes and heading straight to Ramón Valencia he demanded an answer to your non presence on posters and refusal not only to receive but to take her phone, Valencia flaunting their "British" phlegm endured the downpour, He took the crutch and dispatched with education and respect for Mairena del Alcor.
This year everything is ready for a good show, another thing is that the square show entradones every day, although there will be "sold" in some. Highlighting the reversal of the Miura, with Sevillian swords that bring new life, leaving for other years matadors "lifelong", Company applaud this adventure.
Two alternatives in San Miguel, of Seville Pablo Aguado and Rafael Serna (the protagonists of Corpus); a farewell "of this place", Rivera Ordoñez of, "Paquiri" on posters, and some presence will not go unnoticed, Cayetano, Roca Rey ... for various reasons.
For those who can not, live far away, or simply prefer their couch at home, This year again the Fair runs are broadcast on television digital payment system.
Please, we are facing the biggest and most beautiful show that they can see, and there is nothing colder than an empty square ...
Presentation & oacute; n posters Maestranza 2017 from Maestranza Pagés on Vimeo.
These are the signs:
Sunday 16 April. Resurrection. Toros Cuvillo Nunez to Morante de la Puebla, José María Manzanares and Roca Rey.
Sunday 23 April. Bulls Source Ymbro for Diego Urdiales, Manuel Jesus El Cid and Joselito Adame.
Wednesday 26 April. Torrestrella bulls for José Garrido, Alvaro Lorenzo and Gines Marin.
Thursday 27 April. Bulls Garcigrande - D. Hernandez to Morante de la Puebla, Julian Lopez "El Juli" and Alejandro Talavante.
Friday 28 April. Juan Pedro Domecq bulls – I Parladé for Enrique Ponce, José María Manzanares and Lopez Simon.
Saturday 29 April. Toros Victorino Martin to Antonio Ferrera, Manuel Escribano and Paco Ureña
Sunday 30 April. rejones. Bulls Fermin Bohorquez Sergio Galán, Diego Ventura and Lea Vicens.
Monday 1 May. Daniel Ruiz bulls for Rivera Ordonez 'Paquirri' (He says farewell to this place), Julian Lopez "El Juli" and Cayetano.
Tuesday 2 May. Bulls Garcia Jimenez - Olga Jimenez to Morante de la Puebla, Miguel Angel Perera and Javier Jimenez.
Wednesday 3 May. Bulls Jandilla – Vegahermosa Juan José Padilla, David Fandila 'El Fandi' and Manuel Escribano.
Thursday 4 May. Toros Cuvillo Nunez to Morante de la Puebla, Alejandro Talavante and David Mora.
Friday 5 May. Victoriano del Río - Toros de Cortes Sebastian Castella, José María Manzanares and Roca Rey.
Saturday 6 May. Toros El Pilar - Moses Fraile to Juan Jose Padilla, Antonio Ferrera and Lopez Simon.
Sunday 7 May. Miura bulls for Antonio Nazaré, Pepe Moral and Esau Fernández.
Fertilizer Novilladas
Sunday 14 May. Steers Guadaira for Leo Valadez, Jesus Enrique Colombo and Toñete.
Sunday 21 May. Steers Andy Younes El Freixo, Alfonso Cadaval y Carlos Ochoa.
Sunday 28 May. Steers Clear Villamarta for Santana, Lagartijo and Rodrigo Molina.
Thursday 8 June. Steers La Quinta Aitor Dario 'El Gallo', Ferrater Beca and Jesús Muñoz.
Thursday 15 June. Corpus. The Parralejo for steers and Rafael Aguado Pablo Serna. (Hand to hand)
Thursday 22 June. Steers Talavante for Alfonso Cadaval, Alejandro Gardel and David Salvador.
Thursday 29 June. Steers Party Resin Angel Jimenez, David Martin and Antonio Medina.
San Miguel
Saturday 23 September. Bulls Garcigrande - D. Hernandez Enrique Ponce, Alejandro Talavante and Pablo Aguado. (Alternative)
Sunday 24 September. Bulls Brothers Garcia Jimenez – Olga Jimenez to Jose Maria Manzanares, Roca Rey and Rafael Serna. (Alternative)
Important data
Renewal, of 13 to the 18 March.
new subscriptions, of 13 to the 25 March.
Single tickets will go on sale from 6 April to 7 May, ambos inclusive.
Maestranza in Seville Bullfighting Previous Years
– See Maestranza in Seville Bullfighting 2016
– See Maestranza in Seville Bullfighting 2015
– See Maestranza in Seville Bullfighting 2014