Posters Bullfighting Feria de Abril in Seville 2020
APRIL FAIR 2020.
SEVILLA CARTEL 2020 AND ARE PUBLIC.
José Antonio Esquinas, the Andalunet.com
RAMÓN VALENCIA: "I am pleased with this fair".
This year after filtration curious posters, and they have been officially presented today in the halls of the Real Maestranza; Ramón Pagés chief executive of Valencia has made public at the press of Sevilla.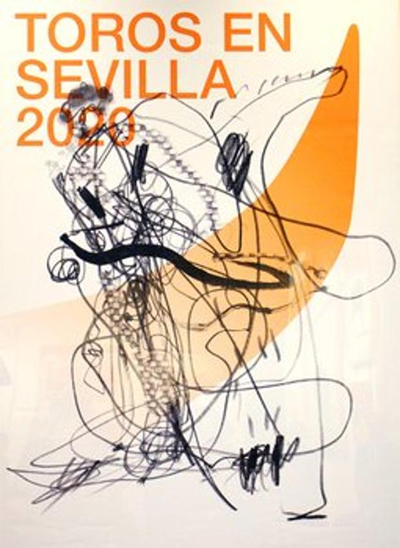 Fifteen bullfights, one of rejones, seven heifers with picks, Taurine form this puzzle with every year delights us (no longer surprising) Pagés Company; paseíllo matadors will the twenty-seventh to forty-five positions, them, fourteen are sevillanos, the 32%, If we talk about novilleros, six are those born in Seville and its province.
The payment will start as tradition, Resurrection Sunday (12 April), and will run from Wednesday 22 April (Sunday prior 19 of preferred) Sunday 3 May (Miura).
Morante, Andrés Roca Rey, and Pablo Aguado, are most paseíllos will, four each, slayers category Talavante and José María Manzanares will make three, Enrique Ponce, El Juli, Perera, Ferrera and Sebastián Castella, They are left with two. One of the names that sounded and is not the Paco Ureña, according Valencia: "I talked to his agent and offered two afternoons, one at the Fair, and one in San Miguel ", at the end, There was no understanding between the parties. another absence, the Ventura Diego, the rejoneador, a whole figure, "I do not want to open plaza", according to Ramon Valencia, "He wants another ahead", he added, to finish with a "I have nothing to do with internal wars". And of course, lack, "the usual", another year without seeing in Seville José Tomás, the boss of the arena of the Baratillo explained clear: "the 14 October I called his agent, I said it was soon, you would think ... later he came to see me in my office Sevilla, I was already doing accounts, when I said "no".
Morante and Pablo Aguado be important players, the poster will be repeated more manure, three times together will paseíllo (two Fair, one in San Miguel). Instead emphasize that the Peruvian Aguado Roca Rey and will not be this year in the alley, something amazing, but surely we will see later, another year ... according to Ramon Valencia (Roca seized): "do not match".
As for Irons, few surprises, in this paragraph let us note the words of Ramón Valencia: "And Garcigrande, why not".
As for prices, up a 2% generally; in fertilizers, traditional discounts to young retirees, and for those who can not or want to go to Plaza, Pay TV will be in the exhibition cycle (No Resurrection).
Does God distribute luck!!
These are the signs:
Sunday, 12 April. Easter Sunday. Bulls Domingo Hernandez and Garcigrande to Morante de la Puebla, Alejandro Talavante and Roca Rey.
Sunday, 19 April. Bulls Palmosilla for Lopez Simon, David Miranda and Angel Jimenez.
Wednesday, 22 April. Source Ymbro Bulls for Juan Leal, Juan Ortega and Rafael Serna.
Thursday, 23 April. Bulls Jandilla-Vegahermosa to Morante de la Puebla, Cayetano and Pablo Aguado.
Friday, 24 April. Bulls Garcigrande and Domingo Hernandez to Antonio Ferrera, El Juli and José María Manzanares.
Saturday, 25 April. Victorino Martin Bulls for Curro Díaz, Emilio de Justo and Roman.
Sunday, 26 April. Toros Rejón San Pelayo to Andrés Romero, Vicens read and Guillermo Mendoza beautiful.
Monday, 27 April. Victorian bulls-sires River Cortés El Juli, Talavante and Roca Rey.
Tuesday, 28 April. Juan Pedro Domecq bulls Enrique Ponce, Morante de la Puebla and Pablo Aguado.
Wednesday. 29 April. Santiago Domecq bulls Antonio Ferrera, Diego Urdiales and Miguel Angel Perera.
Thursday, 30 April. Nunez de Toros of the Cuvillo for Miguel Angel Perera, Alejandro Talavante and Pablo Aguado.
Friday, 1 May. Bulls Brothers Garcia Jimenez, Olga Jimenez and Peña de Francia El Fandi, Daniel Luque and Ginés Marín.
Saturday, 2 May. Nunez de Toros of the Cuvillo for Sebastian Castella, José María Manzanares and Roca Rey.
Sunday, 3 May. Miura bulls for Manuel Escribano, Moral Pepe and Rubén Pinar.
Feria de San Miguel
Friday, 25 September. Hooky from different farms for the winners of the contest of young bulls of the Toro Foundation Lidia. Hand to hand.
Saturday, 26 September. Victoriano bulls of the river to Ponce, José María Manzanares and Roca Rey.
Sunday, 27 September. Juan Pedro Domecq bulls for Morante de la Puebla, Diego Urdiales and Pablo Aguado.
Heifers with picks
Sunday, 10 May. Steers R. Chamber - C. Rafael Sierra González, Tomas Rufo and Manolo Vázquez.
Sunday, 17 May. Steers Emilio Nunez de Tarifa Silvera, Large and Alejandro Antonio Mora.
Sunday, 24 May. Villamarta steers for Javier Orozco, San Diego Román and El Rafi.
Thursday, 11 June. Source Ymbro steers for Curro Durán, Juan P. Jaime González García Calerito and Ecija.
Thursday, 18 June. Fernando Sampedro steers for Manuel Diosleguarde, Juan J. Villa Villita and Arturo Gilio.
Thursday, 25 June. Dolores Rufino steers for Jesus Alvarez, Francisco Montero and Juan Pedro Llaguno.
Poster presentation Season 2020 In sevilla from Maestranza Pagés on Vimeo.
Important data
Renovation Fertilizers: The 9 to the 17 March on schedule 10.00 a 14 00 and h 17.00 a 20.00 h.
new subscriptions: The 9 to the 21 March on schedule 10.00 a 14 00 and h 1700 a 20.00 h.
TICKET SALE OF LOOSE – SEASON 2020
Advance sales through the web (click)
Box Office Sale: The 2 April to 3 May in schedule 10.00 a 14.00 and h 1700 a 20.00 h.
Day of celebration: lockers open continuously from 10.00 in the morning until the time of celebration.
Passes are canceled for.
INFORMATION
Phone information: 902 223 506 box office: 954 501382 Fax Lockers: 954 501559 Phone office: 954 560 759 Fax Offices: 954 213141
Information and advance sale only in our official web address: Tickets
Email: taquilla@plazadetorosdelamaestranza.com
(Source: Plaza de Toros de la Maestranza in Seville)
Maestranza in Seville Bullfighting Previous Years
– See Maestranza in Seville Bullfighting 2019
– See Maestranza in Seville Bullfighting 2018
– See Maestranza in Seville Bullfighting 2017
– See Maestranza in Seville Bullfighting 2016
– See Maestranza in Seville Bullfighting 2015
– See Maestranza in Seville Bullfighting 2014