Posters Bullfighting Feria de Abril in Seville 2019
APRIL FAIR 2019.
APRIL FAIR IN MAY. WE HAVE IN SEVILLE Bullfighting.
José Antonio Esquinas, the Andalunet.com
As man proposes and God disposes, This year things the religious calendar, April Fair in Seville Taurine, It will be held during the month of flowers that say some corny, in May.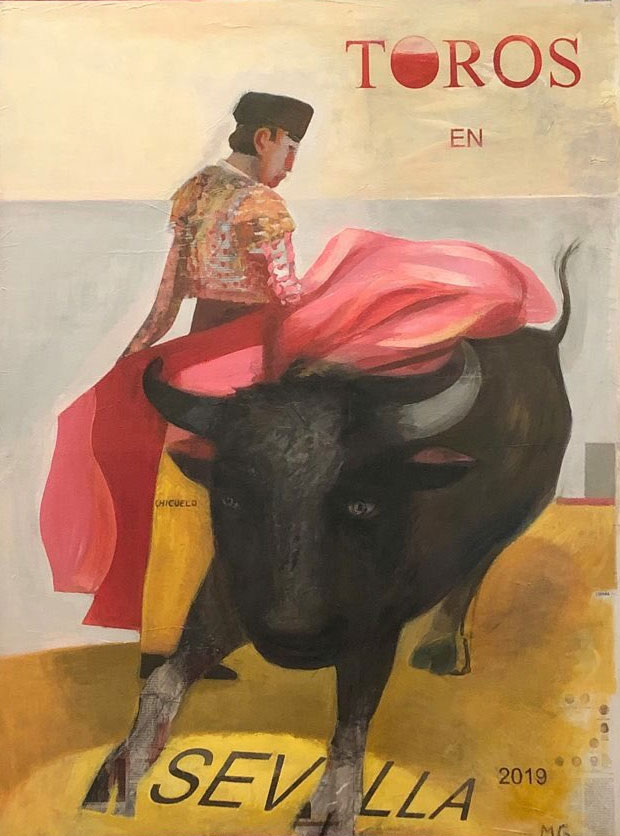 There are already signs aforementioned official, a liturgy that this year the Supreme Pontiff posters, Ramón Valencia has already made public. No missing figures, They are the Morante, El Juli, José María Manzanares and Roca Rey, not forgetting Castella or Perera, supporting figures, Urdiales enters, Paco Ureña, Antonio Ferrera, Manuel Escribano and "El Cid", he will say goodbye to the bullrings (San Miguel); as notes to highlight the presence of more than earned Pepe Moral (takes Miura!), and to close posters, Cayetano, Fandi, Simon Lopez, Gines Marin, so there is everything and in pharmacy. An unexpected drop, the master Enrique Ponce, other years always ready for anything, and this is left out ... are we one, which would a castizo.
The payment consists of fourteen bullfights, a mixed run, rejones one of seven heifers with picks, cycle will run from 21 April to 29 September.
herds, the usual, which there, come out better or worse, will be like always a matter of going to see all, or tempt fate and hit.
We can not deny that a priori are well finished off posters, then we know that the bull put in place all, which hopefully will be the best, for the sake of the show and the Feast.
As useful information for fans, the renewal of fertilizers is the 18 to the 23 March; new season ticket 18 to the 30 of the month, and loose entries 11 April to 12 May.
For lovers of your armchair, Canal Plus will Toros Movistar holidays celebrations.
These are the signs:
Sunday 21 April (Resurrection). Bulls Victoriano del Río Cortés bulls and El Juli, José María Manzanares and Andrés Roca Rey.
Sunday 28 April. Bulls Palmosilla Luis Bolivar, Luis David and Rafael Serna.
Wednesday 1 May. Torrestrella bulls for Joaquín Galdos, José Garrido and Alfonso Cadaval.
Thursday 2. Bulls Garcigrande to Morante de la Puebla, El Juli and Miguel Angel Perera.
Friday 3. Cuvillo Nunez bulls for Castella, Manzanares and Roca Rey.
Saturday 4. Toros Victorino Martin to Antonio Ferrera, Manuel Escribano and Emilio de Justo.
Sunday 5. Fermin Bohorquez bulls for bullfighters Pablo Hermoso de Mendoza, Vicens read and Guillermo Mendoza beautiful (will take the alternative).
Monday 6. Juan Pedro Domecq bulls and Parladé to Morante de la Puebla, Diego Urdiales and José María Manzanares.
Tuesday 7. Toros El Pilar for Pepe Moral, Gines Marin and Alvaro Lorenzo.
Wednesday 8. Two bulls Rejón Los Espartales Diego Ventura and four of Domingo Hernandez for El Juli and Cayetano.
Thursday 9. Santiago Domecq bulls for El Cid, Miguel Angel Perera and Paco Ureña.
Friday 10. Jandilla bulls for Morante, Rock and Pablo Aguado.
Saturday 11. Source Ymbro Bulls for Antonio Ferrera, El Fandi and Lopez Simon.
Sunday 12 May. Miura bulls for Castella, Chacón and Pepe Moral.
San Miguel posters:
Friday 27 September. Villamarta steers for UAN to nominate three candidates.
Saturday 28 September. Victoriano del Río bulls for El Cid, in his farewell Sevilla, Manzanares and Roca Rey.
Sunday 29. Daniel Ruiz bulls Morante, El Juli and Angel Jimenez.
Novilladas Ticket:
19 May. Parralejo steers for Angel Jimenez, Francisco Manuel and Alejandro Mora.
26 May. Kevin Steers Spartacus Louis, Antonio Grande and the Rafi.
6 June. Steers Dolores Rufino Javier Orozco, Fernando Navarro and Manuel Diosleguarde.
13 June. Steers Soto de la Fuente for Aquilino Girón, Parrita and Pablo Páez.
20 June (Corpus). Source Ymbro steers for Emilio Silvera, Calerito and Daniel de la Fuente.
27 June. Jose Cruz steers for Garcia Navarrete, Rafael Gonzalez and Marcos.
Important data
Renovation Fertilizers: The 18 to the 23 March on schedule 10.00 a 14 00 and h 1700 a 20.00 h.
new subscriptions: The 18 to the 30 March on schedule 10.00 a 14 00 and h 1700 a 20.00 h.
TICKET SALE OF LOOSE – SEASON 2019
Advance sales through the web (click)
Box Office Sale: The 11 April to 12 May in schedule 10.00 a 14.00 and h 1700 a 20.00 h.
The days 14 and 18 April, hours will be from 10.00 a 14.00 h and day 19 April (Holy Friday), the ticket office closed. Day of celebration: lockers open continuously from 10.00 in the morning until the time of celebration.
Passes are canceled for.
INFORMATION
Phone information: 902 223 506 box office: 954 501382 Fax Lockers: 954 501559 Phone office: 954 560 759 Fax Offices: 954 213141
Information and advance sale only in our official web address: Tickets
Email: taquilla@plazadetorosdelamaestranza.com
(Source: Plaza de Toros de la Maestranza in Seville)
Maestranza in Seville Bullfighting Previous Years
– See Maestranza in Seville Bullfighting 2018
– See Maestranza in Seville Bullfighting 2017
– See Maestranza in Seville Bullfighting 2016
– See Maestranza in Seville Bullfighting 2015
– See Maestranza in Seville Bullfighting 2014