Posters Bullfighting Feria de Abril in Seville 2018
APRIL FAIR 2018. MANZANARES AND ROCK KING "balance FAIR".
by José Antonio Esquinas, the Andalunet.com
Seville Seville fertilizer is official, the festivities will be twenty composing entire cycle crediting the Real Maestranza, Fifteen bullfights, rejones a feast of seven novilladas (one at the "Feria de San Miguel").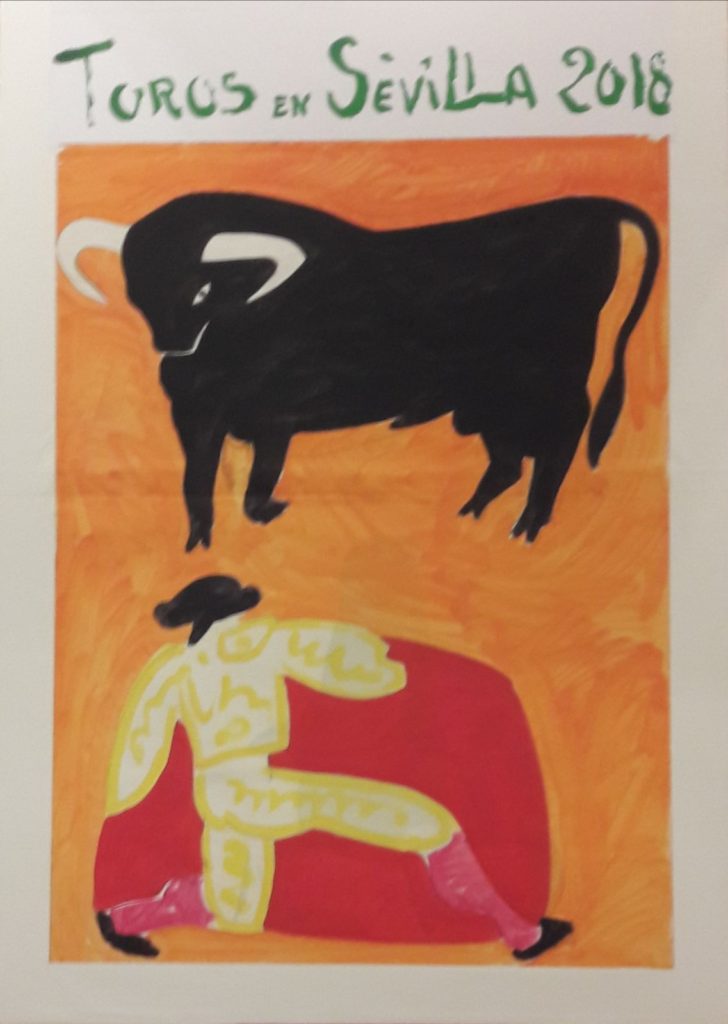 A year Ramón Valencia, businessman and head of Pagés (and nobody remembers Eduardo Canorea?) made public the posters of payment of Sevilla. For the manager "is a great show, balanced, in which young people have mixed with bullfighters, since the Company accommodates all you can ".
This statement (that could have endorsed the late Don Diodoro), leaves clear a fair where José María Manzanares and Roca Rey are based on COSO Baratillo season with four paseíllos, not forgetting to Antonio Ferrera, three evenings, like Alejandro Talavante.
Not for nothing are the first three that opened the cycle on Easter Sunday, as a poster for the Sevillian public, that surely will fill the Plaza, another thing is that subscribers are more this year, With which, like all recent years, It is fond of "the public" which covers the bleachers lines and Grandee.
Great figures of the stature of Enrique Ponce, El Juli, Pepe Moral, Juan Jose Padilla and Morante de la Puebla, They have two evenings, The La Puebla is to "San Miguel", have to wait, good signs for September, the alternative Alfonso Cadaval.
Do not miss the appointment Perera, Notary, Adame, Serna, Castile, Padilla, El Cid or El Fandi, ; as made clear Valencia "thirty percent of the killers are Sevillians". Whenever we talk of those, It is speaking of those who are, this year, the most striking cases of rejoneador Diego Ventura, "He said he would not come to Bohorquez", dixit Valencia, and matador Paco Ureña, "The company told him, but there has been agreement within the corrida he wanted to kill ".
Regarding the novilladas, novilleros act all one afternoon, having one reserved for winners (in September), important to remember that many of those who will be hanging on posters are sevillanos, Pagés well!
As newcomer irons highlight The Palmosilla, in bullfight 12 April; They do not miss the classic quote: Juan Pedro Domecq, Hermanos García Jiménez, Victoriano del Río, Victorino (first year without the legendary Galapagar), Bohorquez, Nunez Cuvillo, Jandilla, Source Ymbro, Miura, Torrestrella, The pillar …
And they are all presented, bulls and bullfighters, beautiful posters, "Balanced", as it has titled Ramón Valencia; "Very Sevillian" We can say. Last year despite signs very topped the audience did not respond as expected Company, This year again another small step forward given, many figures in said posters, and significant presence of Seville, Will the solution to drift fans attendance Square?
By last, the price of the seats keep their prices 2017 for this one 2018, by Pedro Tamayo (number two Pagés), for some celebrations there discounts 10%, and anecdotally, the works of the stairs in the stands of Sun has brought the elimination of some localities.
It only remains to subscribers and fans in general come to the Square, a commendable show, artistic, in a unique setting, as I always say ... it will lose?, Let the bulls!
These are the signs:
Sunday 1 April. Victoriano del Río bulls for Ferrera, Manzanares and Roca.
Sunday 8 April. Toros Las Ramblas for Curro Díaz, Pepe Moral and Roman.
Wednesday 11. Torrestrella for Javier Jiménez, Lama and Pablo Aguado.
Thursday 12. Bulls Palmosilla for Bolívar, Joselito Adame and Rafa Serna.
Friday 13. Bulls Garcia Jimenez for Perera, Talavante and Roca.
Saturday 14. Victorino bulls for Ferrera, Escribano and Luque.
Sunday 15. Bulls Bohorquez Sergio Galán, Andrés Romero and Lea Vicens.
Monday 16. Bulls Garcigrande to Ponce, El Juli and Talavante.
Tuesday 17. Bulls Cuvillo for Castella, Manzanares and Talavante.
Wednesday 18. Toros El Pilar Bautista, Simon and Garrido.
Thursday 19. Jandilla bulls for Ferrera, El Juli and Roca.
Friday 20. bulls Juan Pedro Domecq to Ponce, Manzanares and Gines.
Saturday 21. Toros de Fuente Ymbro for Padilla, El Cid and El Fandi.
Sunday 22. Miura bulls for Escribano and Pepe Moral, hand to hand.
Novilladas Ticket:
Sunday 6 May. Dew bullocks House for Toñete, David Salvador and El Adoureño.
Sunday 27 May. Steers Guadaira for Angel Sanchez, Diego Carretero and Angel Tellez.
Thursday 31 May. Corpus. The Parralejo steers for Angel Jimenez, Emilio Silvera and Alfonso Cadaval.
Thursday 7 June. Steers Dolores Rufino Miguel Angel Pacheco, Jesus Muñoz and Juan P. García 'Calerito'
Thursday 14 June. Antonio López Gibaja steers for Garcia Navarrete, Carlos Ochoa and Daniel de la Fuente.
Thursday 21 June. Steers Party resin for Curro Durán, Kevin and Aquilino Luis Giron.
Feria de San Miguel:
Friday 28 September. Steers Talavante. three winners.
Saturday 29. Bulls Garcia Jimenez for Padilla, saying goodbye, Morante de la Puebla and Roca Rey.
Sunday 30. Juan Pedro Domecq bulls. Morante, Manzanares and Alfonso Cadaval (alternative).
Presentation & oacute; n posters Maestranza 2018 from Maestranza Pagés on Vimeo.
Important data
Renewal, of 23 February to 3 March.
new subscriptions, of 26 February to 10 March, excdepto day 4 and 5 March.
Single tickets will go on sale from 22 March on schedule 10 a 14 and h 17 a 20 h. The days 25 and 29 March schedule will 10 a 14 h.. Except 30 March that the box office will be closed. The day of the show box office will be open from 10 Morning inikterrumpida way.
Maestranza in Seville Bullfighting Previous Years
– See Maestranza in Seville Bullfighting 2017
– See Maestranza in Seville Bullfighting 2016
– See Maestranza in Seville Bullfighting 2015
– See Maestranza in Seville Bullfighting 2014