'Calerito' festival took two ears. Castle Guards. Seville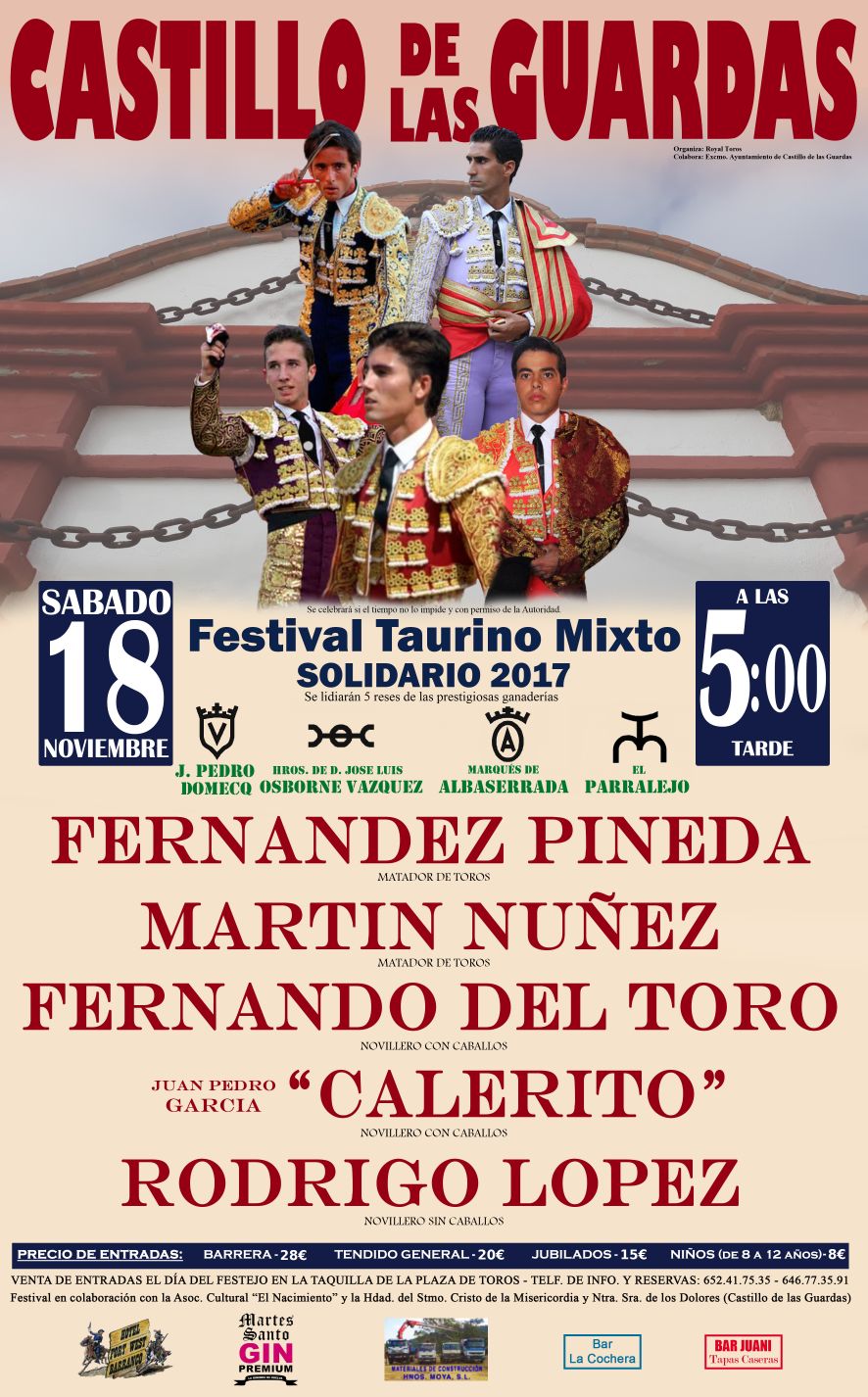 Fernando del Toro cut an important appendix. Pineda and Martín Núñez, They put good bullfighting without a sword, while the worst Rodrigo López took closure.
The entertaining celebration held in the Place of the Castle Guards, where the "marker" did not reflect the high artistic content because of steels.
Seville Fernández Pineda, He showed his neat ways a classic torero and performing artist in the abreplaza. Pineda curdled both well basted and aesthetic series pythons. He expressed tanning craft and be prepared for greater commitments with a vertical goad and rhythmical. He drew several natural-carat at the coldness of the public. Faena great structure and content. Thrust, pithing it all to good fogged one of Juan Pedro Domecq.
Martín Núñez, He signed an artist job. Seville right-hander said with gypsy airs and with much poise in his work. He goaded to beat with the cape. Percale rocked with great character and expression in very toreras verónicas. And linked with flannel, impeccable addition times and cites. The natural course and came up with depth, in a passage of great beauty and low hand. While right-cleaning and tie were his virtues. Capacity and goad meaning in a work of heights and rhythm. Sword deprived trophies. Great horned El Parralejo.
Fernando del Toro, He was very involved from the beginning. He prescribed several long changed very tight and very graceful verónicas. bull, with crutch, astado understood the demanding Albaserrada which imposed its judgment. There were control, firmness and imposition by the Sevillian bullfighter in a work of great footage. Fernando wad with his opponent in a work of much transmission and good torero. With Panosa in the right hand the bond was his pillar and natural, the depth. A bullfighter who again demonstrated that it should be in the highest echelon by trade and good concept. lunge receiving. important Oreja.
'Calerito', He faced a very Osborne bull off the ground. Juan Pedro García offered firmness and good offices to a manageable fourth. 'Calerito' revealed good ways and ambition since it opened in calico. It reflected a varied third of banderillas with exposure and delivery. That was broadly 'Calerito' in the broad task with crutch. It pasajeó both pythons before one classless commanding general. Best available which added forehands good fold. The final bernadinas great risk to a bull without humiliating and very tight. Lunge and two ears.
Rodrigo López, showed lack of shooting. An aspiring little placeado hinted that good details within a classical concept before a very complicated bull which turned halfway through the trip. Delivery, They won him a couple of somersaults and show no step back with the difficult cierraplaza.
FILE FESTEJO
Plaza de El Castillo de las Guardas (Seville)
Antlered to Juan Pedro Domecq, the Parralejo, Albaserrada (3Th and 5th), Osborne. Disparate presentation and overall good game.
Entry: "Almost full" nice afternoon and unattached
Fernández Pineda; ovation upon request.
Martín Núñez; ovation upon request.
Fernando del Toro; Ear.
Juan Pedro García 'Calerito'; two ears.
Rodrigo López; Ovation