Parking April Fair in Seville 2023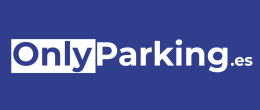 The company from Cádiz Surface Car Parks Cádiz S.L., operating under the trademark Onlyparking.es, will manage again this year 2023 the car parks of the April Fair in Seville. It has a total of 13.785 parking spaces, of which, 10.601 they are rotating, 1.853 subscribers distributed in five car parks and the rest for authorities and protocol, all located in the surroundings of the Real de la Feria.
Onlyparking.es has put up for sale since 29 per AndaluNet Fira 2023 the parking season tickets for the April Fair in Seville 2023. The ticket sales will take place via web:
This measure is intended to provide more citizens with the possibility of acquiring parking tickets for such an important event, from any point from the beginning of sale, avoiding the hassle and waiting times.
They can also be buy in person at P-1, next to the Blas Infante Metro station, from the 11 April, by cash or credit card.
In total they are 1.853 fertilizers those that have been put up for sale, in five car parks designated for this purpose, in the vicinity of the Real de la Feria.
The only Parking rotation will be the Charco de la Pava, as usual the last few years. This parking, which will open to the public continuously since Saturday 22 April at 12:00 hours, will feature 10.601 spaces and a shuttle service for its users.
In all parking, both subscribers as rotation, they allow at 2% places for disabled.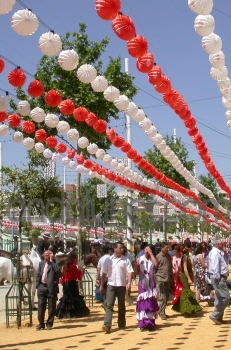 RULES SALES PASS FOR PARKING APRIL FAIR 2023
1. The sale of subscriptions will be made on the website of onlyparking.es, since Wednesday 29/03/2023 to 10:00h while stocks and by-face sale from Monday 17 April in time 10:00h a 14:00and h 16:00 a 20:00h in car park P-1, next to the Blas Infante Metro station.
2.- Once the subscription is purchased, the system will issue a PDF document with QR code, associated with a registration, which you must print and locate on the front of your vehicle for later recognition by the parking agents, which will verify the registration for their authorization to enter the assigned premises.
3. IMPORTANT
IMPORTANT
– WE ONLY ADMIT PASSENGER TYPE VEHICLES.
Do not come by motorcycle, truck, bus, etc.. – we will deny entry, even with fertilizer.
- Once the purchase will not accept returns for any reason.
– No license plate changes will be accepted once the purchase has been made.
Make the purchase with peace of mind and enter all the data correctly.
.
4- The quota of parking spaces is limited and credited, therefore, there is no guarantee that everyone who is waiting place for the purchase can get it.
5.- Shelf life of fertilizers: from the 9:00h Saturday 22 from April to 06:00 h. Sunday 30 April without interruption.
6.- Disabled: It will reserve a 2% Parking spaces in each, at the same rate as other fertilizers. To access the car park must submit, along with manure, accreditation issued by the Government of Andalusia or competent body.
7.- The purchase of fertilizer implies knowledge and acceptance of these rules.
8. The City Council of Seville and onlyparking.es will not be responsible for subscriptions purchased in a place other than the indicated points of sale..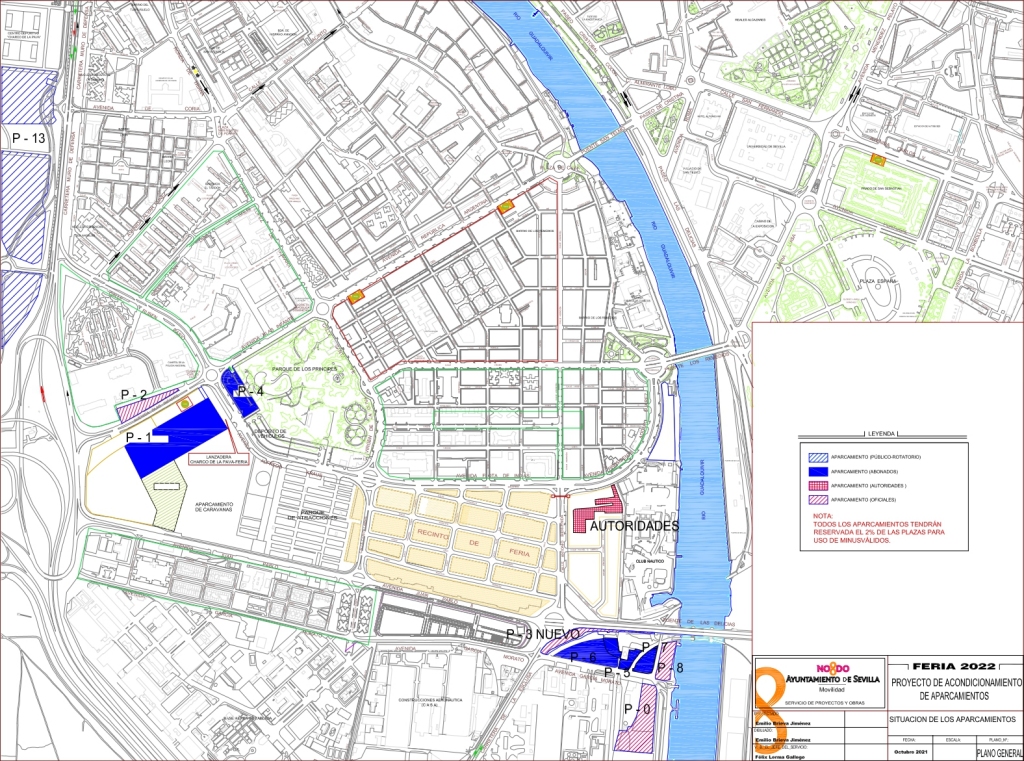 RATES:
– General rate in rotation parking per stay P-13: 8.00 € VAT included.
– Abono Parking P-1: 105.00 € VAT included.
– Abono Parking P-4: 130.00 € VAT included.
– Abono Parking P-5: 160.00 € VAT included.
– Abono Parking P-6: 180.00 € VAT included.
– Abono Parking P-7: 160.00 € VAT included.
(All prices are VAT included)
Typology of parking spaces:
Parking P-1 y P-4. capacity of 1.250 places approx. It has access from Avenida Blas Infante, either from López de Gomara through the control point located in López de Gomara with San Martín de Porres, or from Av.. From the Argentine Republic. They have great accessibility on foot to the fairgrounds. Paid parking is the highest capacity.
(Valid from 22/04 to 9:00 hours until 30/04 to 06:00 hours).
Parking P-5, P-6 y P-7. These subscriber car parks are located on Avenida Juan Pablo II, next to the Puente de las Delicias, on the back cover and a few meters from the fairgrounds.
(Valid from 22/04 to 9:00 hours until 30/04 to 06:00 hours)
Parking P-13 CHARCO DE LA PAVA. It is the main car park available at the Fair and to which you should go all vehicles that do not have a reservation or subscription in any other of the planned car parks.
Offers 7.370 sleeps. It has four independent entrances, easy to use and supported by the actions defined in this Mobility Plan. It is connected to the fairgrounds through a completely free shuttle bus line.. The operation of the shuttle is uninterrupted and has an estimated travel time of between a few 5 the 10 minutes.
The entrances are the following:
1. Direct access from the Juan Carlos I Bridge before entering the SE-180 junction, accessing from the Aljarafe area.
2. For vehicles coming from the SE-30 South direct access by turning left upon reaching the Defense Wall (in hours 12:00 h. from noon to 02:00 h in the morning).
3. Access for vehicles coming from Carlos III and Avenida de Coria by turning right from the Defense Wall.
4. Access for vehicles coming from the Carretera de Huelva and the Cristo de la Expiración Bridge by turning right from the Defense Wall.
This car park will have a shuttle bus provided by TUSSAM that began to provide service from the Saturday of "lighting" of the Fair day 22 April until the 06.00 Sunday hours 30 April continuously.
Depending on the occupation, there will be one or two stops for the shuttle bus inside the car park.
The outward and return journey will be made through Rubén Darío Street and Carlos Cano Glorieta until its stop at Alfredo Kraus Avenue..
PEOPLE WITH REDUCED MOBILITY: Booking 2% Parking in all.
Summary
Review Date
Reviewed Item
Author Rating